WHAT IS THE
GYROTONIC®

Method
The
GYROTONIC®

Method a revolutionary new concept in fitness. 

The work, often referred to as yoga in motion is a low impact expansion system of exercise.  

GYROTONIC®

exercise combines the flexibility and calmness of Yoga, grace of ballet, focus of martial arts,  body sculpting of weight training, and the core strength and stretching benefits of Pilates.

The GYROTONIC® Method is a unique system of exercise based on the principles of yoga, dance, tai chi, and swimming. Unlike most workouts, the GYROTONIC® system of exercise emphasizes the spiraling movement of the spine and joints producing long, lean flexible toned muscles. It increases joint mobility and range of motion, develops doordination and simultaneiously stretches and strengthens the body with minimal effort.
Benefits
Sculpt Your Body

Reduce Stress

Increase Energy

Improve Posture

Increase Flexibility and Range of Motion

Improve Your Immune System
WHO IS THE
GYROTONIC®

Method FOR?

For those in search of an alternative to traditional exercise, the

GYROTONIC®

Method is a low impact fitness system that can be practiced by everyone regardless of age or fitness capability.  The work is ideal for the man, woman, senior, athlete or dancer, seeking health, fitness, stamina, strength and flexibility. The

GYROTONIC®

Method develops core strength, reconditions the nervous system and improves circulation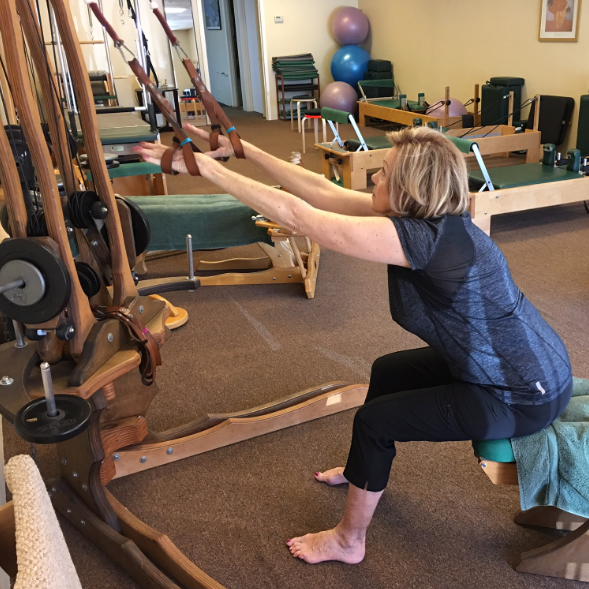 WHAT TYPE OF SESSIONS ARE RIGHT FOR ME?
We recommend all new clients, especially those with injuries or working with other physical limitations start their PILATES or
GYROTONIC®
Method practice with a One-on-One Evaluation, that takes into consideration your lifestyle, level of commitment, and realistic goals. Based on this, we'll determine which classes are right for you and get you on your way to a healthier body.
"

Sonia and Chris are both fabulous trainers and take professional pride in their work. They vary the routine so it is never boring. Most importantly they check with me to see what areas I need to work on when I come in.
Wendy G.

"

"

I've experienced a dramatic improvement in my range of motion. It's been life changing experiencing the benefits of flexibility in everyday life. Sonia understood my body's limitations and worked with me to overcome them.
Sam K.

"